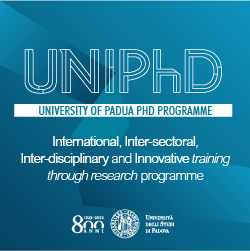 In the framework of the Marie Skłodowska-Curie Action COFUND, the Doctoral Programme UNIPhD – at the University of Padova. It offers the most talented Early Stage Researchers (ESRs) coming from all over the world a brand new International, Inter-sectoral, Inter-disciplinary and Innovative training through research programme.
A paradigm change will be explored by UNIPhD in 25 Doctoral Courses, covering all scientific domains, with the final goal to foster what will be a transformative wave in the regional and national Academic sector, while enhancing our global capacity to respond to urgent challenges emerging around us.
Two of these PhD position will open with our CerAMglass Research Group on "Multimaterial Additive Manufacturing of Ceramic-Based Components for Batteries" (Prof. Colombo and Dr Franchin) and "Shaping and direct synthesis of bioglass scaffolds from engineered silicone-based blends" (Prof. Bernardo and Dr Elsayed)!
Take a look at our Contacts page to get in touch and know more about them or check out the description here!
Timeframe:
Call opening, 11 January 2022
Call deadline, 8 March 2022, 1 p.m. CET