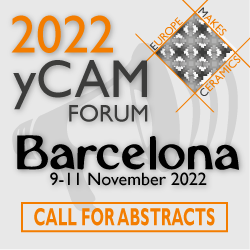 After two years of yCAM online, the yCAM team (including Dr Giorgia Franchin) is happy to announce an in-person yCAM 2022. The event will take place from 9th to 11th November 2022 at the University of Barcelona, Spain!
yCAM is a symposium and a forum on Additive Manufacturing of Ceramics dedicated to young scientists. yCAM is an initiative of Europe Makes Ceramics (EMC), the Additive Manufacturing network of the European Ceramic Society (ECerS). This edition is supported by the JECS Trust, the University of Barcelona and the Spanish Ceramic Society.
Registration and abstract submission are open for the event! Check out the corresponding links to get more information!