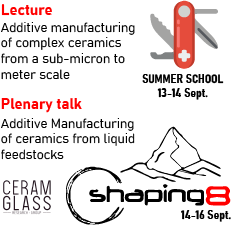 In two weeks (14-16 Sept.2022) the 8th Shaping Conference will take place in Dübendorf, Switzerland.
The conference will be preceded (13-14 Sept. 2022) by the "A swiss knife for ceramics shaping: Between fiction, hope and vision" Summer School.
The CerAMglass Research Group will be represented by Dr Franchin who will actively participate not only as lecturer at the school but as plenary speaker at the conference!