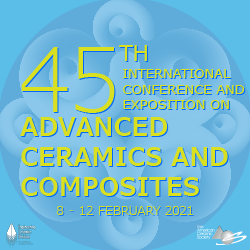 In just a couple of weeks – starting from the 8th to the 12th of February – the 45th International Conference and Exposition on Advanced Ceramics and Composites (ICACC) will take place online.
The online schedule of the conference is available here.
The CerAMglass research group will be represented at the conference by its following members:
Prof. Paolo Colombo
Prof. Enrico Bernardo
Dr Giorgia Franchin
Hamada Elsayed
Renata Botti
Useche Inchauspe
Kai Huang
Anna De Marzi
Marco D'Agostini
We wish you all a good conference!